Really, that's how I feel the second time I ride down a backstreet in Brooklyn. It was the most "my life is like a movie" I have ever felt. I say this because the crowds outside the venue are tending to squeeze in. Immediately there was an "oh, I'm on something special" vibe. And that's when the Midwesterner in me kicks in and thinks, Should I be here? I'm not that good. I'm sure not, but I've been there, and I know I'm going to witness something amazing.
And I actually did before the show started. The crowd has personified fashion week. It seems all of downtown Manhattan is there, and every look is enviable and awe-inspiring at the same time. The row across from me is the perfect mix of street-style superheroes meeting in the flirting game Knicks. In fact, if Marvel were to make a street style version of the Avengers, I swear I'd have seen the team in all its glory— AGAIN, before the show even started! Again, I DON'T DESERVE!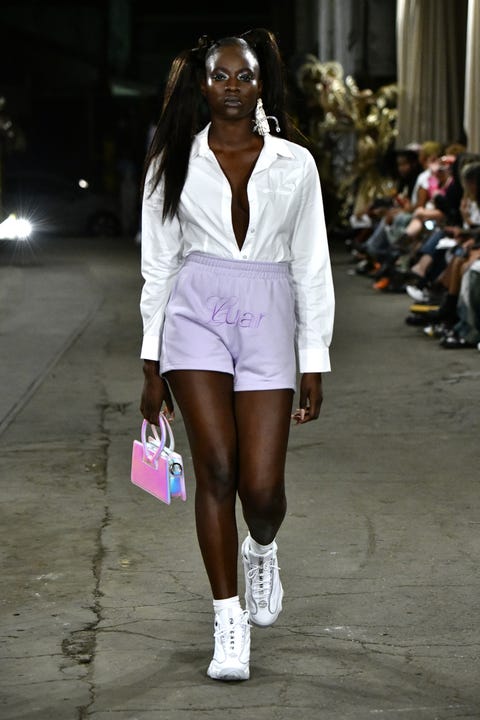 My new friend Claire and I sat next to an avid LUAR fan who told us why designer Raul Lopez means so much to them. They told us they come from the ballroom and trending community and love the way LUAR incorporates its Dominican culture into the show. So in fashion, many people often feel excluded, but Lopez makes them feel invited. Invited!
This is my smooth transition to getting started, are you ready?! The lights go out, the large garage door is raised, the lights come back on, and Alanis Morissette's "Uninvited" starts playing. How smooth is that? I'm embarrassed to admit it, but the song that started the show was simply everything to this '90s kid. That was the first part of the night where I said, "Okay, maybe I belong!" I could go on about Alanis…but I won't!
The first look down the runway is a leather trench with a belt, but the belt is closer to where the collar would normally be. Even though the models had the most stern, intimidating expressions I've ever seen, the crowd still greeted them with the sweetest wheezes, meows, and cat meows you'll ever hear.
The show feels fun, but looks serious and serious. Even sweets men have that "watch me seriously fuck me in my comfy clothes" vibe. While the pandemic has made us sweat, or still wear them and feel ashamed about it, LUAR has given us a gift — sweat it and be the BOSS. Models also carry briefcases, so that can help sell the aesthetic.
And yes, I said serious, but there's absolutely playfulness in the show. Skirt shirts are tucked into lavender shorts and paired with stockings and loafers. Again, with a briefcase that says, "I'll sue you, but I'll make it cozy, bitch!" This program really has something for everyone. And I feel lucky to be one of those people.
When Lopez finished the show, there was a wave of love from the crowd as he walked down the runway with his cute little niece in a T-shirt that read "I Love My Gay Uncle". They were supposed to hand out that tee when the crowd left, because one thing was very clear at the end of the night: We all love your gay uncle, honey!