I'm not sure which ELLE.com editor has ties to the NSA, but someone had to read my June 2021 text message to Heidi Gardner when she asked me which designer was my costume. . Among my responses was Staud, so when I was invited to sit in the front row at the brand's spring 2022 show, I was equally excited to see the new ready-to-wear collection. and confident that my phone has been tapped.
I arrived at 7pm. on the dot, like a real fool. All the time to be on time, fashion week shows right! I know it's fashionable to be late, but maybe I'm simply too eager to strut down Varick Street in a Staud turtleneck sweater vest and legged pants paired with yellow leather boots. When I arrived at the gates of Spring Studios, I immediately saw another person changing into identical clothes, but with a pair of heeled sandals. I thought, Okay! Embrace flexibility.
Other than that, there is total mayhem outside. I'm saying many different lines: a very long paragraph, a shorter one, and then a small group of people trying to ignore both. I can tell right away that joining the program will not exactly be a smooth run. Claire arrives and we come up with a loose plan to get through the first checkpoint. I can feel myself calmer, not to mention feeling more and more grateful that I chose a hand-free number so I don't have to worry about stains.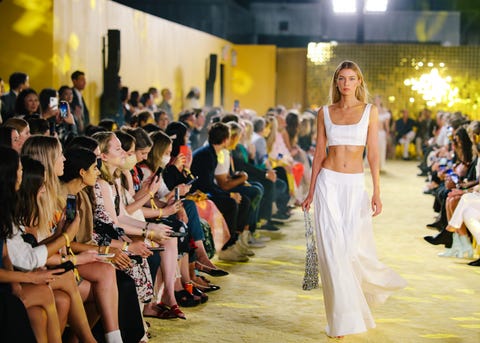 When we were upstairs, I saw a bright yellow carpet across the surface area of ​​the terrace, matched with bright yellow chairs and a giant lemon disco ball in the center of the floor. I mean, how could you miss the lemon? I have simply never seen a better dressed lemon, and probably never will. Everything about the atmosphere made me feel like summer wasn't over yet, and it wasn't even 7:15pm. on a Sunday night in mid-September. I love it. Summer forever!
Claire and I made our way to the bar and a couple of nice, rule-based bartenders poured us sparkling canned tequila cocktails into champagne tubes. We raised a toast to the summer. (Okay, we don't, but I wish we did.) I took my seat and there was a well-dressed dog sitting on my lap beside me. Even the dogs are dressed to impress for fashion week. I am learning.
The Staud show is all about beachwear, crop tops, crochets, mini skirts and maxi dresses. The show started with lights that could bring back a dead man, what I think was house music, and gorgeous models striding to the beat. It felt like they were dancing, but in fact they were walking. I was mesmerized. I felt like I was in the front row at a summer party. Toes and belly exposed, baby! Again, I say: summer forever. My favorites are a hot pink feather mini dress, a navy blue crochet maxi dress, and a colorful patchwork maxi.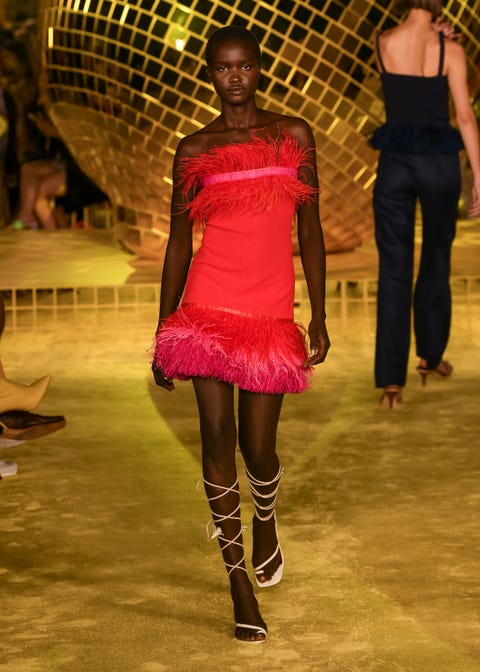 The program ended with a surprise fireworks display. Some people wondered if fireworks were part of the show, and I knew they were because someone I guess was the producer told a few of us the show would end with "surprise" fireworks. I'm a bit salty because I wish I could share my fear of embarrassment at the end of the night. Wow.
For a minute, all that explosion of color almost made me forget for a moment just before the show started when a rumor hit the front row with me: Larry David was there—and maybe because the new chain was made in collaboration with him. Either of these seems too far-fetched to me, but I thought, Awesome! I like the fashion made by L.D. design. I never confirmed the partnership rumors, but after the show, I kept an eye on David himself. I can't say if he was having fun, but after that, rumors swirled that he was having the time of his life.
This last year and a half has certainly brought us regrets and, in my case, social anxiety, but the vibrancy of the Staud performance reminds us that the last light The tunnel could be fireworks.